by Paul on May.21, 2009, under DJ Product Reviews, News
The R200 should be the poster-mixer for versatility
Once in a while, I take pleasure in introducing newer brands which haven't got their share of publicity. Sure, it's great to talk about Numark and Vestax, working DJs usually know what to expect and they're mostly just interested in how suitable the respective DJ product's features are to their needs. Well, if you're not a working DJ based out of Great Britain, chances are you might have missed Wharfedale Pro DJ equipment company. As a division of Wharfedale, the producers of "Britain's most famous speakers", Wharfedale Pro covers other DJ products, such as the R series mixers, out of which I'll start today with the R200 mixer.
It's always hard to talk about newer DJ equipment such as the R200, mainly because it hasn't got to that many working DJ hands so reviews are quite slim for the R200. Can't really argue about quality either, and at under 100$ price for the R200, I probably wouldn't take a bat to it anytime soon. Other than that, the R200 is nicely organized into different sections and this layout is essential on such a DJ mixer, because the sheer number of different controls and knobs on it cold easily be overwhelming for a starter DJ or even a working DJ who's low on patience. The R200 is split into three different vertical areas, and each does something else. At any rate, it will take you a while to get used to all the knobs and buttons on the R200, so I'd just advise you find which ones you use more often and work with those at the beginning, before getting too serious.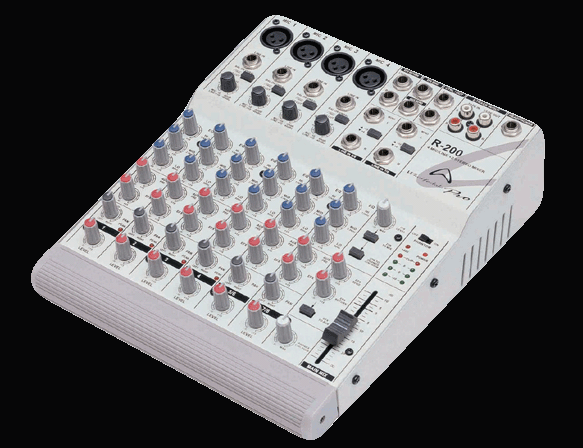 The main R200 quality though isn't its layout or build quality, it's the options it gives to a working DJ. The R200 is such a complex DJ mixer that it will integrate flawlessly into more than just one area of music manipulation. The R200 can just as well work in a studio, for sound reinforcement, in field recording or even in film or video production. It's second quality is the portability, which allows for easy transportation for the R200 to whatever venue it is needed on. At 4.4 kgs, the R200 is a pack-and-go DJ product, with not much else to worry about. This makes perfect sense for Wharfedale, as they designed the R200 for multiple applications and with great portability in mind, which will only make it easier on the working DJ in the long run.
I'll let you know from the beginning, a DJ mixer with so many possible applications as the R200 will have a long list of features, to suit quality requirements in each and every area it's used in. Some of those R200 features are :
the Wharfedale R200 is a 4-channel mixer, with separate 75 Hz, 18 dB low cut filters on each of the channels
the inputs are a wide enough variety to make everybody happy, from working DJs to film producers: four balanced or unbalanced mono inputs, other four low noise XLR microphone inputs, with high headroom and finally, 2 pairs of balanced and unbalanced stereo inputs
the R200 provides 48V phantom power to external DJ products requiring it (mainly mics)
the EQ on the R200 is 3 band (12 kHz, 2.5 kHz and 80 kHz) for every input channel
the outputs also cover a lot of ground: the R200 has separate main, control room and monitoring (for headphones) outputs, and a high quality 60 mm fader for the master output
two tracks inputs are specifically assignable to main or control room/monitoring outputs
also in the monitoring section, the R200 also features very accurate 10 segment bargraph meters for easier "viewing" of audio
These are just main features on the R200, nothing realy technical about them. If you're interested in the specific tech specs for each type of input/output, just visit the Wharfedale website and it's all there.
With these characteristics, the R200 is quite a little package for the under 100$ price tag, very versatile and performing enough to ensure quality audio work in any of the venues it was made for, working DJ related or not. The R200 is thus appealing to a lot of people, maybe to some even more than to working DJs, since the DJ mixer industry has great quality DJ equipment to please every working DJ out there. The R200 still stands its chance though, and the only thing it's missing now are a few good working DJs taking it for a spin out there, to some live stage DJ experience. That's going to be R200's initiation test. If you're one of those lucky DJs, drop a comment and let us know what you think of the R200, we're curious…
audio
,
DJ product reviews
,
XLR
Related Posts
:audio, Britain, DJ, DJ equipment, DJ equipment review, DJ mixers, DJ product review, DJ product reviews, DJ products, DJ review, film production, knobs, mixing, mobile DJ, multiple applications, new, pack and go, phantom power, R series, R200, sound, starter DJ, studio, versatile, Wharfedale, Wharfedale Pro, working DJ, XLR
Powered by
Max Banner Ads