by Paul on May.18, 2009, under DJ Product Reviews
The CDJ 800 MK2 brings Pioneer quality to digital DJs
It all started with Numark CDX. Controlling MP3s and CDs as you would vinyl record was a natural step in the working DJ's development, so naturally, companies started applying themselves for it, DJ equipment started pouring out and even though the CDX and HDX from Numark do a pretty good job alltogether, the influence Pioneer has cannot be underestimated. More than that, these guys listen to their users and update their DJ products accordingly, so when you see the CDJ 800 MK2 you know it's got what most working DJs suggested and of course, it's Pioneer quality, which is never ever a little thing.
The CDJ 800 MK2 is a revised upgraded version of Pioneer's older models turntables, with some pretty heavy upgrades, so much that it's actually a whole new DJ product. That's not impressive though, what's impressive is that those upgrades aren't made just for the sake of upgrading DJ equipment, but as a result of the input of working DJs using the previous version. In the words of Karl Detken, DJ product planning director for the Pioneer PRO DJ: "The input we received from leading DJs who used the previous CDJ models helped in the development of the next generation products [...] Adding MP3 playback to the CDJ-1000MK3 and the CDJ-800MK2 was a natural progression based on the growing use of MP3s. MP3 adds convenience and immediacy, making it easier for DJs to transport and access their music.".
So the main upgrade the CDJ 800 MK2 brings is MP3 support, which it can play at any bitrate from any CD-R/CD-RW. That's nice for a DJ product to offer, and it's a must for the working DJ in this digital era. Most obvious is the look change, where even though CDJ 800 MK2 keeps the main key design theme and layout as previous Pioneer turntables, its new metallic finish and metallic buttons work to give it a stylish modern look, and of course, metallic also means more resistant and a better feel to the CDJ 800 MK2 buttons.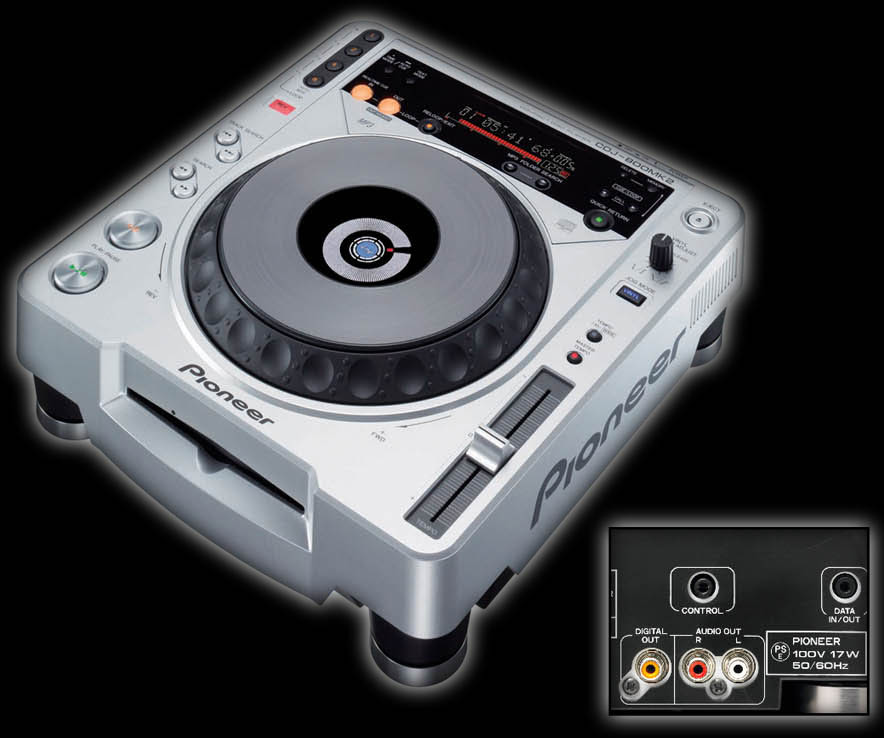 And talking about better feel, the jog wheel is also modified with a metallic non slip finish and for better scratching performace. The CDJ 800 MK2 jog wheel is designed for better viewing angle and easier visual assistance with a brighter look and markers on it, but I personally don't like the look it sticks out compared to other DJ turntables. The CDJ 800 MK2 proceeds to add a necessary auto beat loop with 4 timing and control buttons, which also got to be a must in DJ turntables today, and with the same progress in mind the other upgrades the CDJ 800 MK2 go as follows:
upgraded higher resolution display that can now show CD text and ID3 data for quick file identification
an expanded internal memory to hold and recall more cue points as needed
a quick return option which lets working DJs return instantly to a selected cue point just by pressing on the jog wheel
last but definitely not least, an expanded pitch control all the way to +/- 100%, which not only makes for easier control of the track and easier cueing and beatmatching of different tunes but also allows for the control of different sound effects
If there's one thing I got against Pioneer's CDJ 800 MK2 and other turntables, it's the price. I don't discuss the Pioneer quality and I'm sure the CDJ 800 MK2 could easily stand its ground in the face of other DJ equipment, but nowadays you can find all these features and more for less than 800$ street price, not to mention the advertised 975$ retail. A good thing to know is that the CDJ 800 MK2 is actually the cheapest Pioneer digital turntable from the current models, so top working DJs with big pockets might well go for it, but I doubt a starter DJ will feel any attraction, in spite of the "professional and upgraded" status of the CDJ 800 MK2.
Maybe some of these pure technical specifications will help ease the blow of the price, and convince the tech-inclined working DJs out there of Pioneer's DJ equipment quality:
the CDJ 800 MK2 features a frequency response of 4 Hz – 20 kHz
a signal to noise ratio of 115 dB or more (JEITA)
total harmonic distortion is 0.006% and an audio output of 2.0 V
into the power specs now, the power requirements for the CDJ 800 MK2 are AC 120 V, 60 Hz, and a consumption of 20 W
The total weight of only 8.8 lbs and the dimensions of 12" (W) x 13-9/16" (D) x 4-5/16" (H) also make the CDJ 800 MK2 very portable and easy to carry, and I suggest anybody interested take a look on the Pioneer site for PDF user's manual and also the all important firmware upgrades.The CDJ 800 MK2 is without a doubt a powerful reliable piece of DJ equipment for the professional working DJ, while the price will probably offset the starter DJs.

DJ equipment review
,
player
,
DJ product review
Related Posts
:CDJ 1000 MK3, CDJ 800 MK2, CDX, digital turntables, DJ, DJ equipment, DJ equipment review, DJ product review, DJ product reviews, DJ products, DJ review, DJ turntables, metallic, mobile DJ, MP3, Numark, pioneer, pitch, player, professional, starter DJ, turntable, upgrade, working DJ
Powered by
Max Banner Ads