by Paul on May.05, 2009, under DJ Equipment Reviews, DJ Product Reviews
Final Scratch 1.5 brings the best of digital and analog together
This post will be about one of my favorite packages out there, a ground-shaking concept in the working DJ world, a seemingly impossible and yet seamless symbiosis between analog and digital in music. Truth is…what would you have expected from this sort of collaboration, or two-sided project between working DJ giants such as Stanton and Native Instruments? You're used to nothing but the best for each of them, so when they come together, everything DJ starts to tremble and hold its breath knowing whatever it is, it will be a beauty to behold. This masterpiece of a package is the Final Scratch concept.
Now Final Scratch has many versions, but the two more advanced and in tune with the times ones are Final Scratch 1.5, now an industry standard which brought PC compatibility to the previously Mac-based Final Scratch, and the 2.0 version, which I am going to cover in another post (well, mainly cover the upgrades from the 1.5 version). So what's so special about the Final Scratch 1.5, you ask? Not much, except it responds to one of the greatest wishes any working DJ ever had: the ability to combine digital and technology with analog and hands-on control.
That's what Final Scratch 1.5 was designed for, to bring together the extreme convenience and control offered by digital mediums with the classical, touching hands-on full control only a vinyl-loaded turntable provides. And how does it do that then? Well the Final Scratch is not one thing, it's actually a fully featured package that contains:
a Traktor Final Scratch 1.5 software for your PC/Mac, which will actually be the mastermind of any of your gigs with Final Scratch 1.5
an USB ScratchAmp, which serves as both hardware and the part that's the middleman between your computer and your turntables and/or mixer. The ScratchAmp connects everything together and makes sure Final Scratch is running smoothly
finally, three Final Scratch standard time-code vinyls or records, which will act as your hands-on control
What happens is really simple actually. Final Scratch 1.5 means all the actual mixing and music manipulation happens only in your computer, through the Traktor Final Scratch software. The music files are all digital (you can use MP3, WAV, AIFF or Audio CD files), loaded into your software and thus easily accesible for any digital transformation you can think of. The ScratchAmp connects your Traktor running computer to all your other gear, and intermediates the signal transmission, while the time-code records you mount on your decks and start playing and mixing like they were your regular vinyls.
The time-code records are special to the Final Scratch setup, in that they tell the Traktor FS software what you're doing on your turntables and mixer through the ScratchAmp (that's what that time-code is there for). The software then manipulates and instantly makes the necessary changes to the loaded files and the signal is transmitted right away back into your gear, and from there for all to hear. So essentially you're controlling a dummy setup that tells the real "brain", the software running on your computer, what and how to do.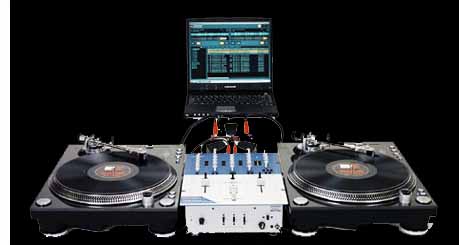 The possibilities are endless with the Final Scratch 1.5 and it's trully a dream come true for many DJs out there. Not only you don't have to carry around a big vinyl collection to your gigs, but with the internet and availability today, you can have the world's biggest music library right on your computer, ready to load and mix on your DJ setup just like you'd have the real thing there. Here's some main Final Scratch features for you to think over:
a standard Final Scratch CD adaptor kit allows using any CD players out there as your controllers
the main thing is that the Final Scratch 1.5 is the first one to run on Windows XP as well as Mac (although the Tiger OS is not supported)
automatic BPM detection and also gain adjustments
a visual wave-form display on your computer shows the track overview, lead-in times and needle position
Dynamic Playlist which changes and updates as you play through your tunes
easily accesible search function that makes searching through thousands of files a breeze
play time and play counter information for each track, as well as a pitch readout
…and many, many more. The post on Final Scratch 2.0 will cover some more features. As a last main upgrade on the Final Scratch 1.5, the addition of a high-quality key correction is notable. This allows you an interesting effect for your mixes, sort of a realtime stretch. A working DJ can change the tempo of any track, while maintaining the same the same pitch. This makes for some really great mixing possibilities. Also, 3 performance levels are available, so the Final Scratch 1.5 won't suck the life out of your computer, in case it has a hard time handling it (system requirements range around a 600 MHz processor and 256 Mb RAM at their minimum – 1,6 GHz processor is recommended).
Software
,
hardware
,
sound
Related Posts
:analog, digital, DJ, DJ equipment, DJ equipment review, DJ product review, DJ product reviews, DJ products, DJ review, DJ setup, Final Scratch 1.5, Final Scratch 2.0, hands-on control, hardware, mixer, mixing, mobile DJ, music library, Native Instruments, records, ScratchAmp, Software, sound, Stanton, time-code, Traktor FS, turntable, USB, vinyls, working DJ
Powered by
Max Banner Ads