by Paul on Apr.27, 2009, under DJ Equipment Reviews
Top 10 DJ Turntables Recommended By WorkingDJ.com
For the DJ just starting out, turntable selection can be a daunting task. Especially if the wallet is a bit light. But the working DJ knows it takes money to make money. With a little bit of knowledge, selecting the DJ turntable that's just right for you becomes a matter of price over quality – and features. And once you figure out what kind of turntablist lurks within your heart, you'll know whether or not you're a classic turntable spinner (belt or direct-drive turntable) or a new age mixmaster (digital hybrid DJ turntable.)
So we present some options you may want to consider with our Top 10 DJ Turntables Recommended By WorkingDJ.com and listed by price – lowest to highest.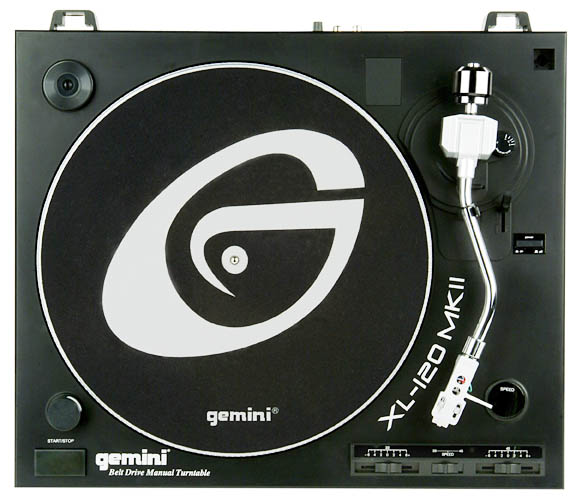 10. The Gemini DJ XL-120MKII manual DJ turntable really gives a working DJ just starting out the most bang for the buck. With many of the features of a higher-end turntable, the Gemini XL-120MKII features a strobe illuminator, an S-shaped tone arm with anti-skate, stop/start button, and a +/- 6% adjustable pitch control at both the 33 and 45 RPM settings. Standard are the removable head shell and cartridge and the modular dust cover. Gemini even throws in a "G" slipmat to push the brand. Perfect for the starter system or as a gift from granny.
9.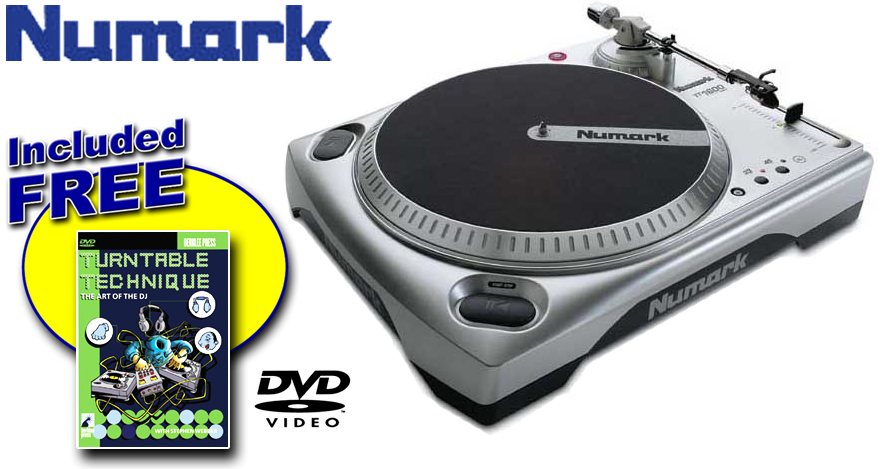 The Numark TT1600MKII turntable is a great entry level battle-ready DJ turntable due to its sturdy aluminum construction, ±10% pitch range, vertical or horizontal orientation and removable audio and power connections. The The straight tone-arm on the Numark TT1600MKII offers a working DJ superior tracking with cue and anti-skate adjustments, and the all-aluminum platter is highly resistant to heavy vibration. Plus you get a really goofy "Getting Started" DVD just for laughs. Get ready to do battle!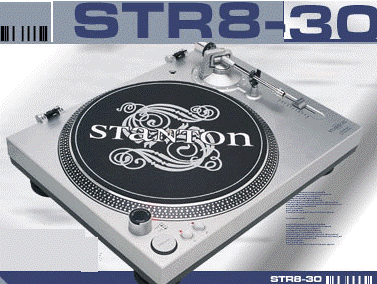 8. The Stanton STR830B DJ turntable is the point on the list where the stakes get a bit higher both in quality and price. Billed as Stanton's entry-level turntable, the STR830B is a real "STR8T" shooter with +/-10% pitch control, illuminated strobe, plus an aluminum platter and skip-resistant, straight tone-arm. At this price point, modularity becomes more important and the Stanton 500 B cartridge comes pre-mounted on the headshell. The Stanton STR830B turntable is a piece of gear that really makes you feel like a working DJ.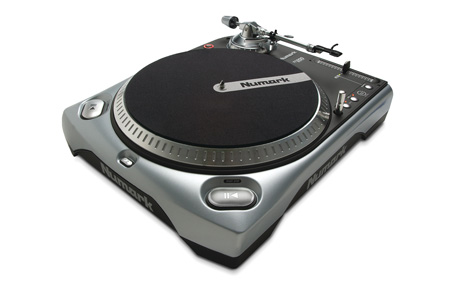 7. The Numark Turntable TT200 moves up the ladder in cost and quality by offering a bit more craftmanship and rugged construction at a still affordable price. With a high torque direct drive motor, an interchangeable aluminum, skip–resistant straight tonearm (the S–shaped tonearm is optional) and 3 speed reverse playback, the features start to give the working DJ a little more edge in creating individual sound. The electronic servo Braking system gives you pinpoint control over starts and stops, but don't stop yet! The Numark Turntable TT200 is the jumping off point for the next phase: the vinyl/digital hybrid DJ turntable!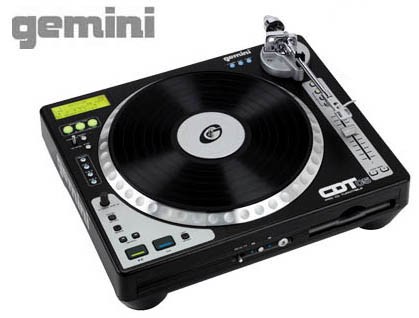 6. The Gemini CDT-05 is a professional grade hybrid turntable that gives the working DJ a world of options to choose from that a standard belt driven turntable can't offer. Compatible with CD, CD-R, CD-RW, and MP3 as well as vinyl, any recording in your library is fair game for a slamming mix with the Gemini CDT-05 DJ turntable. Mixing analog with digital adds classic sound to the cutting edge, and widely expands the fidelity range that drives an audience wild with energy.
In Part 2 of the Top 10 DJ Turntables Recommended By WorkingDJ.com, we'll cover more models of both classic belt-drive and direct-drive turntables as well as some more high-end hybrid DJ turntables.
Click Here to learn more.
STR830B
,
DJ products
,
motor
Related Posts
:belt driven, CD, CD-R, CD-RW, CDT-05, digital, direct drive, DJ, DJ equipment, DJ equipment review, DJ product review, DJ product reviews, DJ products, DJ review, Gemini DJ, hybrid turntable, mix, mixing, mobile DJ, motor, MP3, Numark, Stanton, STR830B, Top 10 DJ Turntables, torque, TT1600MKII, TT200, turntablist, vinyl, working DJ, XL-120MKII
Powered by
Max Banner Ads