Numark iDJ2 – Leave The Milk Crates Behind
The ultimate in plug-and-play simplicity, The Numark iDJ2 DJ mixing station is the first product to mix 2 tracks from a single iPod. Hook it up and start the show!
Remember the milk crate? At one time I had more milk crates stuffed with wax than DJ equipment. Half the back of my van was filled with classics, standards, latest releases and the all important "never fail" records that I would need for any job. Even if I worked a club with a good system, it took a village to make me a DJ. Now with the Numark iDJ2, I can walk into that same joint with one road case no bigger than my old Technics 1200's.
I remember when my DJ buddies and I would sit around talking about the business and one theme ran through our discussions constantly: technology was gonna make everything easier, cheaper and put more music at our fingertips. Since I was a guy who had done his first party with a battery-operated Recotone record player and a few albums, I didn't buy in right away. All I had to do was look in my garage to see that I needed more and more gear every time I rolled up to a job. Technology wasn't saving me – it was drowning me.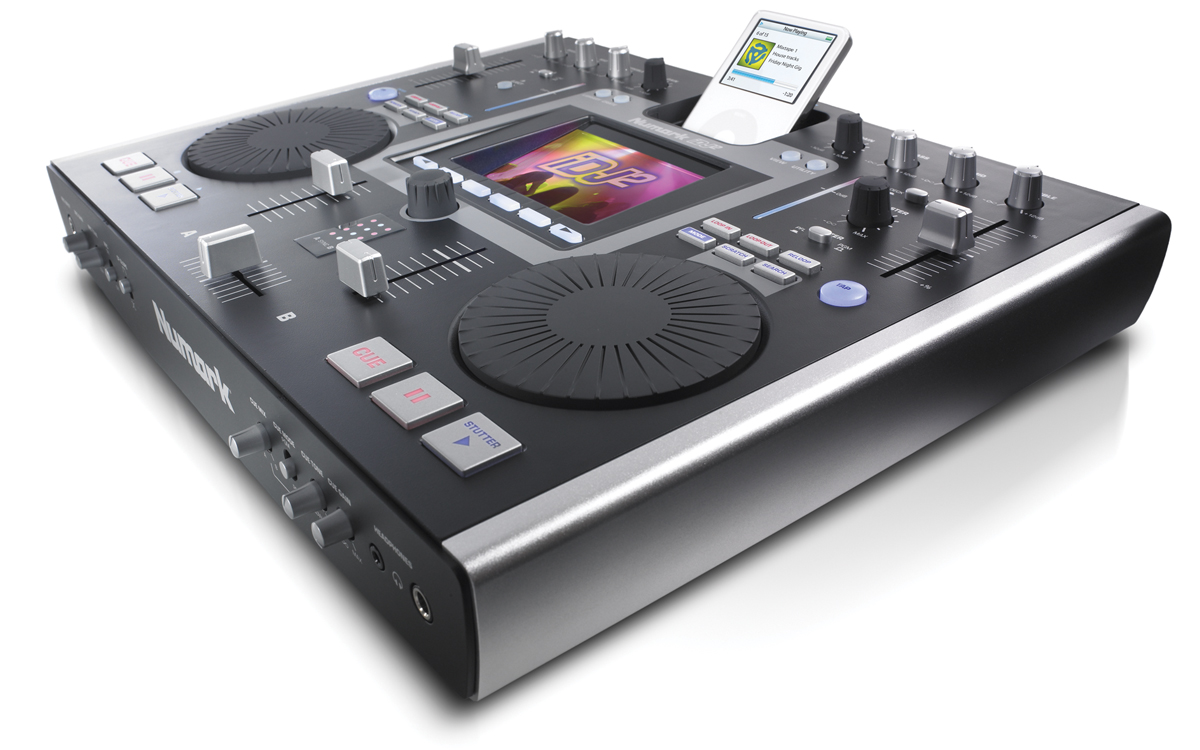 Well, my buddies were right. With the Numark iDJ2, all you need is a fully stocked, single iPod loaded with classics, standards, latest releases, and especially – "never fails" – and you can rock any joint, anytime.
Check out these Numark iDJ2 features:
Mix 2 tracks simultaneously from 1 iPod
Scratch and locate specific points within the track
Create and mix seamless loops instantly
Auto start with the touch of a crossfader
Match pitch without affecting tempo with the Numark iDJ2 Keylock feature
Visually match beats with the Beatkeeper LED system
No more flipping through stacks and stacks of wax (especially about 3 beers in) with the Numark iDJ2 proprietary Crate system, which indexes your iPod's contents and organizes them into set lists. Find any tune or track in seconds. That comes in handy when you're inspired to break with the program and mix on the fly. And even in the lowest lighting conditions, the color LCD screen makes it simple to find exactly what you're looking for and cue it into your track list.
But the Numark iDJ2 has all the tech specs you need for a successful "come back anytime" gig. Built in are two sets of grounded analog phono/line-switchable inputs for connection to CD decks, turntables, drum machines… just about any analog music source. It also has two USB ports for connecting and mixing digital devices including MP3s, WAVs, AACs, and much, much more. The iDJ2 was meant to help you convert virtually any platform in your library, giving you easy access to your most treasured jams.
And you can record your newest gems because the Numark iDJ2 has a complete cueing section with both 1/8" and 1/4" stereo jacks, and fully loaded outputs with balanced XLR and unbalanced RCA Master and Record outs.
So forget the milk crates, they're back to hauling milk… unless I start buying up iPods by the gallon.